"Welcome to Europe´s leading network of Visual Catalysts and Creativity Experts serving purpose-driven organizations"
Markus Engelberger - Founder & Chief of the Creative Tribe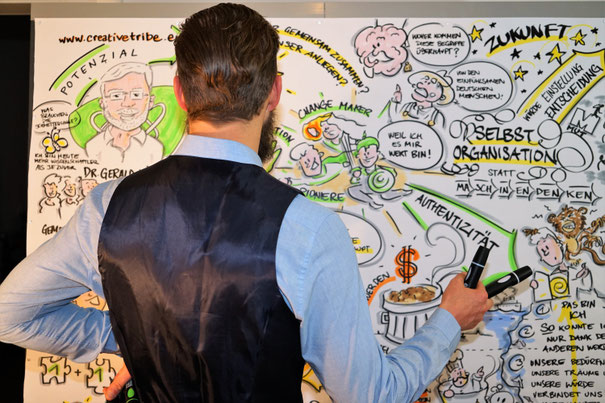 ---
Only in the past year, our collective supported 200+ change processes and created value for 1000+ meetings, congresses and events around the globe.

These are the reasons why business partners trust us:
We are specialists for designing, hosting and visualizing dialogues and collaborative formats in the context of Innovation, Transformation and Leadership.
Like other service providers in the field, we combine visual aids and tools with Systems Thinking-theories, Coaching tools and Dialogic OD methodologies.
As an incremental innovation we also engage Startups as well as specialists, who know all about entrepreneurial levers that might be helpful in overcoming 21st century challenges.
The true disruption that makes us a standalone network on a global scale, are three crucial elements:
We are an exclusive One-Stop Shop for creativity, creative services and solutions. As a diverse group of successful creative entrepreneurs, wedecided to unite our strengthes and efforts, because we believe in the power of interdisciplinarity, co-creativity and collaboration.

We strive to deliver only excellence. To realize this goal, we only unite the most professional service providers available in the field. Through a unique yet lean matching - process, we make sure you get the perfect match for your need.
We are the good ones. We care about our planet´s future and unite our super-powers to realize positive systemic change.
---
We love to keep things lean and simple.
In a nutshell, this is the value we can create for you:
1.       We Inspire and enable creativity!
2.       We deliver creative services and solutions!
3.       We help your project, organization or businesses kick ass!
---
The human brain is a Visual Thinking powerhouse.
As Visual Catalysts we harness that potential to its fullest.

---
In our work as Visual Catalysts, we use that often unharnessed potential to trigger new perspectices, thoughts and ideas.
Meaningful thoughts are then often followed by meaningful dialogues and targeted (inter)action.

---
Pictures, Metaphors and Stories are the most powerful tools any leader can use.
They help recipients understand, communicate and remember.
---
Graphic Recording in Meetings
Graphic Recording at Congresses and Events
Graphic Recording in Innovation-, Change- and Transformation- Processes
Visual Facilitation of Meetings
Visual Facilitation at Congresses and Events
Visual Facilitation of Innovation-, Change- and Transformation- Processes
Design of Visual Communication Materials (Explanation Videos, Infographics & More)
Workshops, Labs, Training Courses
Entertaining and informative Key-Notes
---
Pictures, Metaphors and Stories help our brain to grasp complex information and they can even influence organizational culture.
---
---
Most of our work cannot be shared with the public, as it happens behind closed doors of organizations, which we support in their endeavor to transform by creating from an emerging future.
The content of visual documentations and other artefacts containing delicate information, is of course subject to Non-Disclosure Agreements. As professionists, we take these commitment to discretion very seriousely!
Soon you will find recent examples of our work, for which we have the permission to share.
---
The page is currently under construction.

Being in the field nearly 24/7 resulted in a page that absolutely doesn´t represent who we are and what we stand for.
The process of re-working it might take some more days.
In the meanwhile please download this PDF to learn more about the variety of Visualization and Creativity services that you can engage us for:
Creative Tribe Portfolio 2018
Graphic Recording, Visual Facilitation, Visual Consulting & much more Creativity-Sparking, Change-Catalyzing Solutions and Services
CREATIVE TRIBE Portfolio 2018.pdf
Adobe Acrobat Dokument
4.5 MB
---
---
A picture is worth a thousand words.
Imagine the power of strategically visually supported representations, explanations and frameworks,
---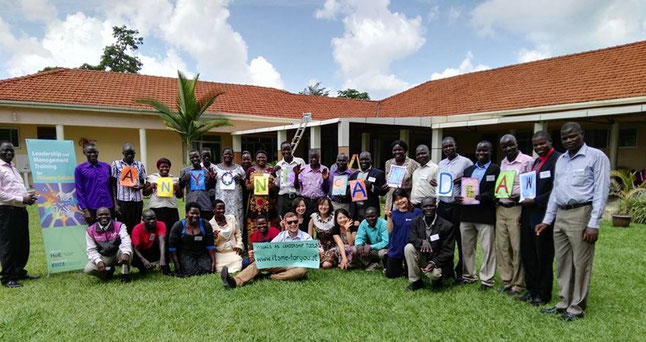 Check out these head-teachers in Uganda, who fight for a better, fair education system in their region.
They are a good example for a project we supported.
---